Swimming in Code
< />
Willkommen! ("Welcome!" in German) 🇩🇪
Ahoy!
My name is Andrew and I've always wanted to work as a web developer/designer but didn't have the nerve to pivot into web development and design until recently. This site, like me, is a work in progress. 
Being a WordPress fan, I initially created this site several years ago because I wanted to figure out how to create and deploy a personal website. It also outlines some of my coding "journey."
If you are learning to code, I listed a few recommendations below that will help you find a good place to begin.
So, what caused me to want to learn how to code? I'll share some of my story with you. ☕️ (…grab a cup of coffee (or your beverage of choice), dive in, and keep reading).
A little bit about me:
I've always enjoyed researching and learning. I recently decided I wanted to make a transition after working in the corporate world for many years (within the SaaS space).
I have always wanted to dive deeper into web development and design, and actually pursue it as a profession.
I'm passionate about helping people, front-end technologies, visual design, accessible websites, and entrepreneurial business. I live in Austin with my amazing Canadian wife (a civil defense attorney). I'm also a big fan of Germany soccer. 🇩🇪⚽️
One thing I have learned to ignore, regardless of how much (or how little) I have learned so far, is that it is easy to think to yourself "I'll never learn this fast enough"…"There's so much to learn and keep up with,"…"Where do I begin?"
We all strive to have an area of expertise. Initially, if you're interested in front-end development, you may want to consider learning how web browsers work specifically the "DOM" (Document Object Model).
I found it helpful to familiarize myself with Git, GitHub, and the CLI (Command Line Interface). Trust me, it can save you a lot of time (especially if you like to be super efficient with a keyboard).
After you have a good grasp of the items above, you can then move on to HTML, CSS, responsive design, progressive enhancement, and eventually a programming language like JavaScript.
Afterwards, plan on continuing to learn a new skill or language (e.g. UX design, Sass, PHP, React, Vue, etc.). I personally like the front-end since it appeals to my creative side and allows me to put my ideas in a digital format (I probably use too many emoji's, but sometimes it's just fun 🎸).
For me, learning visual design is just as important, because not only do I want websites to function properly, I want every pixel to be visually appealing…(as I'm typing this, I laugh and realize this particular (WordPress) site is not yet an example of that).
What's up with the dolphins and whales?
I have always enjoyed learning about the ocean and exploring my creative side through the use of my 35mm camera. Growing up, I was always interested in learning about photography and marine life (especially cetaceans – whales and dolphins).
It all goes back to the late '80s (MS-DOS and BASIC days!). After university, I fulfilled my childhood dream (at the time) of becoming a dolphin trainer (behaviorist) at SeaWorld.
One of the reasons I enjoyed working at SeaWorld (besides of course interacting with the dolphins and whales every day) was that it allowed me to help educate and promote awareness about our oceans and marine life.
That experience also taught me how to speak in front of 3000+ people without having a heart attack!
My views have since changed dramatically towards marine habitats and marine parks (especially captivity, marine conservation, and environmental protection).
About three years ago (early 2016), not knowing very much about creating websites, I began learning how to configure (and eventually deploy) this website.
I first learned how by using WordPress, and became a huge WordPress fan (hence the name of the URL). Well, you have to start somewhere, right?
I had so much fun learning WordPress that I eventually decided to dive deeper and learn more about how websites are actually built and how the browser works.
I also started learning about PHP, so I could better understand how it interacts with WordPress. I think it's pretty awesome to see how code "becomes alive" on your page and how the user experience can constantly be improved.
Fast forward to early 2018. I finally decided to get out of my comfort zone and go for it.  I immersed myself (full-time) in code.
After applying and becoming accepted, I made the decision to complete The University of Texas at Austin Full-Stack Web Development Program (a.k.a. "UT Coding Boot Camp").
---
I gained familiarity and experience working with HTML, CSS, JavaScript, and MERN-stack (MongoDB, Express, React and Node) technologies.
Learning to code can be really hard. At times you feel like you're on a roller coaster. I know, because I've been "off and on" several times. Sometimes I  would go weeks without making as much progress as I thought I could.
Some days it feels like you're drinking from a firehose, so try to stay focused and choose to continue learning (with or without "imposter syndrome").
What I love about this entire process is that it motivates you to constantly keep learning. The learning process is research-intensive. This is a good thing!
I took a friends advice and attended a developers/designers conference in Seattle (in March 2019) that came highly recommended, called An Event Apart (which was awesome!).
Below are a few resources that I've found very helpful and I hope they help you.
---
A Great Place to Start Coding:

FreeCodeCamp – Totally free online courses!
This is a great way to get started, especially if you want to access free courses. The podcast is very informative and fun to listen to. Oh, and did I mention it's completely free?!
The value here is not that its free…there is a real, vibrant community, and the site is now even more "accessible" (built with text editors for accessibility requirements). Pretty cool!
---

I've researched a ton of online resources and one of my favorites (IMHO) is treehouse for learning HTML, CSS, and JavaScript.
They have a variety of different "Tracks" to choose from, and for me, the format is really clear and easy to understand.
Their slack channel is a great way to connect with other coding students and instructors, and also get questions answered immediately.
You are encouraged to review other peoples project submissions, which helps to reinforce your own learning.
I highly recommend treehouse. You should definitely check them out. I think they do a great job. ?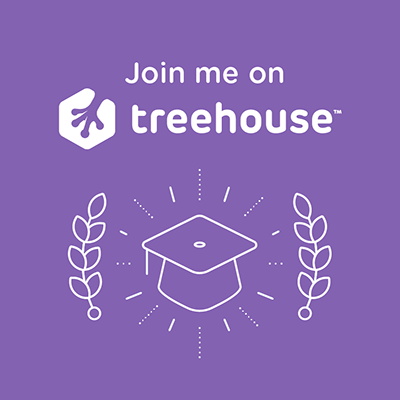 (Full disclosure: we both receive some sort of discount if you check out the free trial via the purple link above, at no extra cost to you. Rest assured, I only recommend products or services that I personally use or believe will be helpful to my readers).   
---
There are obviously zillions of other really good resources online and on YouTube, but I found these particularly helpful.
Besides learning online on treehouse, this book (HTML&CSS – design and build websites) is a classic must read by Jon Duckett (in addition to his JavaScript book):
Here's a cool game to learn CSS or CSS grid!
---
Udemy: Online HTML/CSS/JavaScript Courses:
You can watch these anytime and anywhere on mobile (via the Udemy app).
How awesome is that? You can learn 24/7! These guys do a fantastic job of taking time to explain the process in a way that is very straightforward and they respond quickly to your questions.
There are many other great courses available. These are just a few I recommend starting out with.
I have no affiliation with the course resource and podcast links below, I simply wanted to list them to help make them easier to locate. As you can probably tell, I really do prefer treehouse as an overall  "go-to" resource.

Learning Git and GitHub (version control):
As a developer, it's important to learn Git and GitHub so you can post your code ("repositories") and easily collaborate with other developers. GitHub Desktop is currently an indisposable tool for me.
Learning terminal commands are extremely helpful and will save you a lot of time.
---

Learn to Code with Me (Laurence Bradford)
I started listening to her podcast and found it really helpful as a beginner (which I still am!).
I also found her website to be a very good resource. Definitely check it out!
---

WordPress:
If you're interested in learning one of the most popular CMS (Content Management Systems) in the world, you may want to familiarize yourself with WordPress, here are a few resources I recommend.
You can also attend a local WordPress MeetUp and WordCamp (or travel to one for fun, like I do, by going to the Seattle WordCamp) :
---

Podcasts and Additional References:
It's amazing how much you can learn from listening to podcasts.
Besides listening to the Techmeme Ride Home podcast every day, I like listening (and learning) from the Syntax and ShopTalk podcasts.  Wes Bos (from Syntax and JavaScript 30) is a great JavaScript and React instructor.
Resources for CSS: As you probably already know,  Chris Coyier and Rachel Andrew are both super knowledgeable in CSS. They both spoke at the  An Event Apart conference I referenced above.
It's always beneficial to get involved in your community with like-minded people (developers & designers). Attend local Meetups a few times a month. You never know who you will meet and can learn from.
---
Titles…
Front-end, Back-end, Full-stack Developer, etc. I try not to get too caught up on titles. I'm personally striving to learn the "front" of the front-end along with UI (user interface) design.
I find learning back-end (or server-side) technologies interesting too, however, I prefer working and designing with front-end technologies.
Wow! If you made it this far, congratulations. As you learn how to code (which never ends), I hope some of the information listed above saves you time and helps you find a useful curriculum.
Something to keep in mind after a long day of coding. As obvious as it may sound, be sure to take time to take a short break and get outside for a walk, run, swim, or ride. It really helps to clear your mind and re-focus.
Being a soccer fan, one of my favorite things to do (unfortunately, it's only every four years) is watch the World Cup.
When the World Cup is not on, I enjoy rooting for my favorite team in the Bundesliga, Bayern München (Munich, Bavaria). The Germany soccer team…"Die Mannschaft" translates to "The team."
I enjoy learning where people come from (their ancestry). My ancestry is German 🇩🇪, Dutch 🇳🇱, and Swiss 🇨🇭(you can check out the respective European travel videos and icon links below).
"Life is like riding a bicycle. To keep your balance, you must keep moving." -Albert Einstein
Also, never forget that it really is about progress, not perfection!
Thanks for visiting my site. It will probably look different in the coming weeks and months. Best of luck to you on your coding journey!
---
                            Deutschland/Germany

---
The Netherlands
---
 Switzerland
---